Everyone envies you, but your dark skin tends to turn gray. How to put on makeup to look good when you have dark skin? It is still believed – wrongly – that dark skin is easier to apply makeup than fair skin, but it does tend to gray. What makeup to highlight your tanned complexion without turning gray? How to choose the right eyeshadow for tan skin? Read below.
Store foundation and concealer at the back of the closet
When you return from vacation, prolong the detox effect of summer by completely skipping the foundation and concealer. When you have a pronounced tan, no need to reapply it: you look good; textures that are too covering are therefore to be avoided. Instead, opt for good hydration and a light, discreet tinted water if you still want to smooth out and enhance your complexion gently.

Bet on a sun powder
To enhance your tan, nothing beats sun powder. Easy to apply, it accentuates your tanned skin discreetly. You still require knowing how to use it well. To do this, turn your brush in the compact, tap it on your hand to remove the excess powder, and then apply it to your T zone (forehead, nose, cheekbones, and chin) to mattifies your skin.
Choose the right blush
Ally of tanned skin, blush is a must-have for our back-to-school vanity. If you have brown skin, go for a copper-red blush. Conversely, skin with redness will favour coral or copper-gold tones. Finally, dehydrated skin will prefer creamy textures, which will be easier to apply. Ultra fresh rendering guaranteed!
Go for copper and glitter eye shadows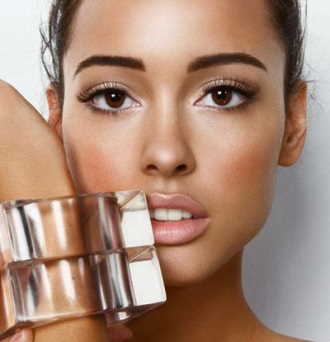 Apply eye makeup. Start by applying a base, and then spread the beige eye shadow with shimmer over the lids. Accompaniment them with brown shades (with a metallic effect also), darkening the external corners of your eyes with it. Feather the borders of the colour transitions.
Take advantage of the rays of the Indian summer sun to catch the light with coppery, golden and iridescent eye shadows. On the other hand, the creamy textures will bring that little glow effect that you like to wear at the end of summer!
For a daytime make-up, brown eyes can be accentuated with beige-gold, bronze or copper eye shadows. Apply them to transferrable eyelids and mixt to a translucent layer. Evening make-up implies more intense shades of eye shadows with a metallic effect: brown, plum, and graphite. Choose the best tone of eyeshadow for brown skin.
The main thing happens not to be creating too dense coverage. Summer makeup should be light.